I am so excited! This afternoon, for the first time, I get to co-host a link party and not just any link party...... I'm co-hosting this fabulous one: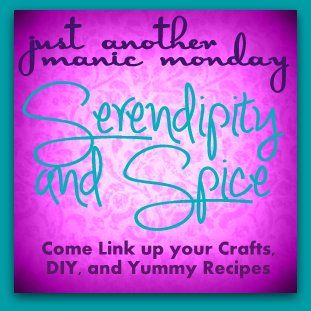 Melissa, from Serendipity and Spice has been one of my blog friends almost from the very beginning. I'm sure I drove her crazy with my questions about how to link up to a party, how to make my pictures the right size, how to make them right for a thumbnail, etc. Geeze, I'm sure I reminded her of a little kid with all of my questions and she already had a new baby! But she was so sweet and patient to answer them all. (She still is!) She also gave me my first feature and I have to say it was a huge boost to my morale while I was feeling so lost in blogland.
She also does some great blog tutorials like:
If you are new to blogging, this series is especially helpful:
So, obviously I would love it if you came back here at 4:30 CST today and linked up something fabulous, but even if you don't, go check out Serendipity and Spice and get to know Melissa!
Hope to see you here later today!