Although the renovation of our new house is finished, I'm still putting on some final decor touches, most of which I will be making myself because buying and renovating a house sucks up all of your money. I will say that I love my new home and every room inspires me to create. (Duh...kind of the goal, after all of that hard work,right? I mean if I'm not inspired by my surroundings, I feel dead in the water, creatively.) Speaking of water, since my master bedroom has a beachy theme, I made this wreath to hang on the wall over my about-to-be-painted dresser.
My friend Natalie at NorthShore Days, in New Zealand, has always made me just a leetle bit jealous with all of her beach inspired decor and fabulous jewelry. (I probably have more of her jewelry, than I do store-bought.) Also my friend Del at Del's Shells, who is fortunate enough to live and play on the shores in Florida, blows me away with her cool beachiness. And of course Tuula, at The Thrifty Rebel, who is always making wonderful wreaths. Thank you for the inspiration ladies!
I found this weird, wispy wreath on the clearance shelf at the tea room in Robins Vintage Suitcase sometime after Valentine's Day. (Such a fun place to go!) It had a horrible red and white over-sized ribbon on it and looked like it needed a makeover. I almost passed it by, but then I realized it had great bones with all of that textural, wispy, driftwood-ness, so I rescued it from it's sad, clearance shelf life and threw it in a box for 5 months.
I cruised pinterest for some cool beach themed wreaths and liked this one.
I would love to give credit to whoever made this, but sadly, the pin didn't take me to any link. (Always a good idea to watermark your pictures, eh?) Anyway....thank you, whoever you are for your inspiration.
I gathered up some found, purchased and gifted sea treasures.
I decided that the wreath was a little bit too wispy, so I gave it a trim.
Then I just attached them to my weird, less-wispy wreath with my trusty but lethal hot glue gun.
I cannot lie, it was incredibly fun and relaxing to just dream about the ocean and puzzle all of these beautiful sea treasures, gems and baubles on that wreath. Here's an extreme close-up.....
I toyed with the idea of a ribbon, but the wreath seemed so busy that I dropped that idea rather quickly.
The colors in the wreath went perfectly with my blue bedroom walls. This is my first time painting blue walls and I love waking up to these colors every morning!
I have oh-so-many more projects to share with you from this room, many of them inspired by some of your wonderful blogs. When my friend Judy was here from Arizona twice during this renovation, we had great fun making many projects that can be adapted to any decor, and I'll be posting them soon.
(By the way, Judy, I know that "less is more", but I just couldn't help putting more and then more shells on this wreath! LOL!)
Linking up here: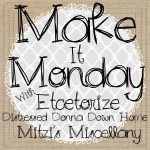 Linking Up: